There's a big difference targeting people heading to a game vs. heading home.
You may not be a sports team but you can still connect with thousands of people heading to the game.
From Train to Game
There is often a predictable path from the train to the game.
Popular services to target the hoards have been Human Billboards, Bike Billboards, Sign Wavers and Chalk Stencils. By targeting the greater surrounding area you can catch people as they are heading out to their next destination and targeting people that come into the area early.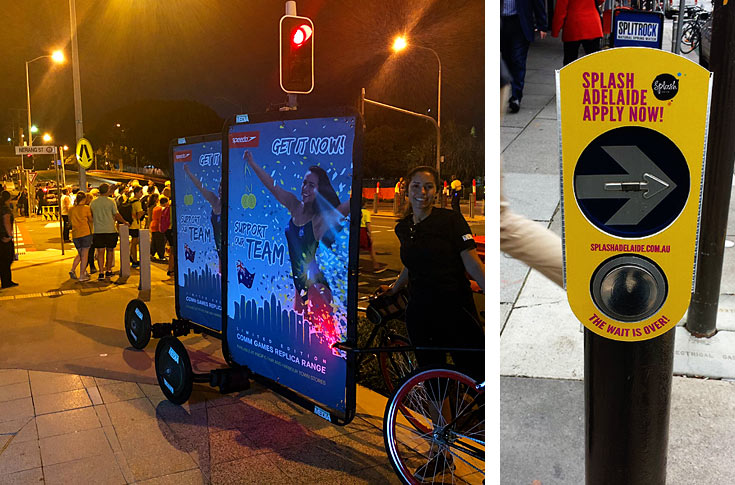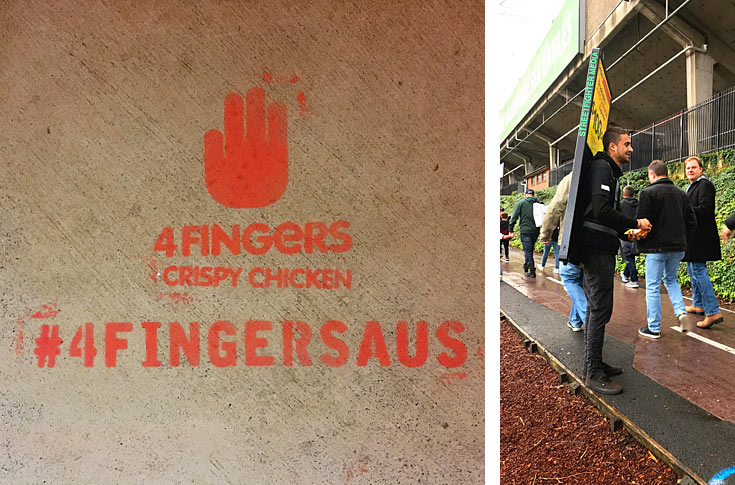 IMAGES: Targeting the crowds with Bike Billboards for Speedos, Pedestrian Buzzer Wraps for Adelaide, Chalk Stencils for 4 Fingers Chicken and Human Billboards for Midas Automotive.
On the Way There vs. on the Way Home
A word of warning: There is a huge difference!
On the way in people are hyped and optimistic. On the way home, they are either celebratory or down in the dumps. And you don't know which one it's going to be, especially if you are targeting the home team crowd.
And, putting this as nicely as possible, the crowd on the way home are usually more intoxicated. They are not as easy to engage with.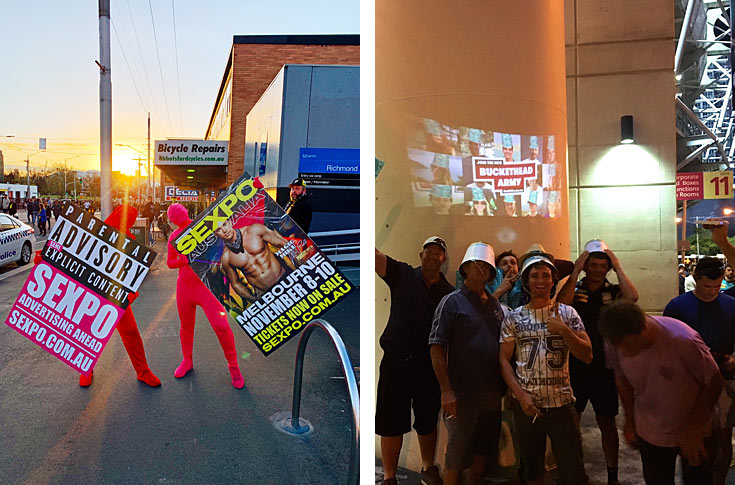 IMAGES: NAB with Globes and Disneyland Tokyo with Brand Ambassadors making connections before the game. Sexpo and KFC targeting a people on the way home with Sign Wavers and Mini Projections respectively.
At or Near the Venue
Every venue and event is different. The larger the event, the harder it is to get close. Higher security and crowd control may mean teams are moved further from the stadium. If you have a sponsorship or arrangement with the event then we have more flexibility. If not, it is unlikely we will be able to activate a campaign directly outside the entrance door, or on the footpath against the stadium.
Being More Strategic
Want to target more than one game? Consider Coffee Cup Distribution and Beer Coaster Distribution. These are both venue-based, meaning they are done with full cooperation and approval. With these services you may be able to target a half or whole season of supporters in a social setting, where they have time to discuss and consider your message with others. We engage bars and eateries surrounding the sporting venues where people are likely to stop for a drink and bite before or after the games.
People are flocking to your city? Consider Street Posters. They are focussed around city areas and reach people and visitors en masse. Single poster up to large scale super sites are available.
IMAGE: Tongue-in-cheek Coffee Cup Distribution for Speedos surrounding the Commonwealth Games.
What can we learn from past campaigns?
People are optimistic on the way to the game, but not necessarily on the way home.
Alcohol can affect engagement quality.
The larger the event, the wider spread the security.
Consider Train to Game for huge numbers.
Consider Beer Coaster Distribution or Coffee Cup Distribution where people have time to engage with your message in a social setting.
If a huge number of people are visiting for the game, Street Posters are focussed around city hubs.
Subscribe
Get Industry Insights and Campaign Examples straight to your inbox.
(1-2 emails per month)
Having
trouble breaking through?

Tell us about your demographic.