---

With 700M users, China's No.1 payment app, Alipay was launched into the Australian marketplace by the CBA and Alibaba. Our Mandarin-speaking teams distributed Alipay red envelopes for the launch during the Chinese New Year festivals throughout Sydney.
---


The OMA used the high-impact and unmissable Lettermen to build awareness for www.lookup.org.au in Sydney, Melbourne & Brisbane, inviting people to LOOK UP, and enjoy the life-changing benefits that brings.
---
Following their Brisbane launch in late 2018, Jimmy Brings made sure people knew they were in town with Human Billboards, Street Posters and Chalk Stencils. Using a multi-factor approach can cover more demographics in a particular market.
---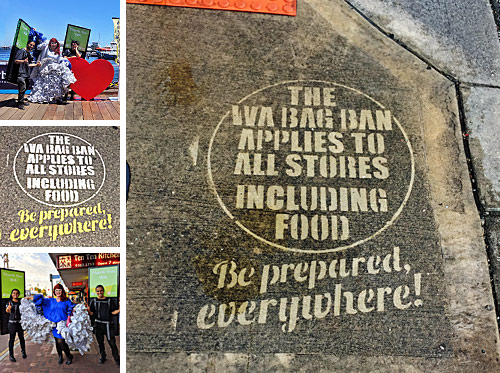 Reminding Western Australian's that the plastic bag ban is already in place, The National Retail Association decorated the streets with reminders and used Human Billboards for a face-to-face, mobile element. Water Pressure Stencils are long-lasting, whereas Chalk Stencils can use colours. Watch our video for the critical differences between these two forms of media.
---
Following on from their Australian launch in late November, retail giant, Amazon, utilised Beer Coaster Distribution in Sydney, Melbourne, Brisbane, Adelaide and Perth during the lead up to Christmas. Beer Coaster Distribution connects with locals in a social environment, where they have more time to engage with, discuss or act on a message.
---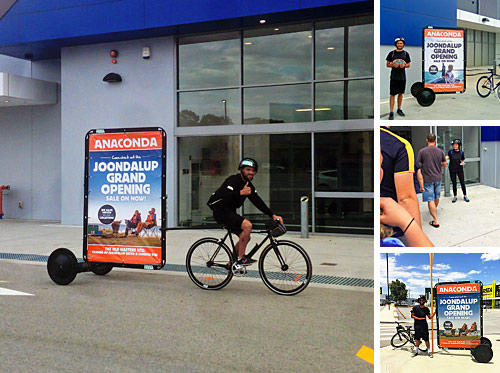 Circling Joondalup (Perth), Bike Billboards alerted locals of the Anaconda Grand Opening. Bike Billboards are perfect for suburban environments, seen by cars and pedestrians. A green service, they can cover several hubs within a suburb.
---
| | | |
| --- | --- | --- |
| | | |
| [ VIDEO ] The Differences between Chalk Stencils and Water Pressure Stencils | | 2019 Media Kit |