"Is your target pro, against or swing for your agenda? Different services are suited to each."
In your target area, are people are open-minded, for your agenda or against it?
If people are for it, a branding message using Chalk Stencils reaffirms. If people are against it, consider Water Pressure Stencils, which require specialised equipment to remove.
For people in the swing, your service has to match your agenda. Are you appealing to conservatives? Then do a face-to-face campaign like Human Billboards. Transparency is key. You don't want to trick anyone. Is your agenda controversial? Go for interesting and perhaps boundary-pushing services, like Chalk Stencils or Pedestrian Buzzer Wraps.
A Political Agenda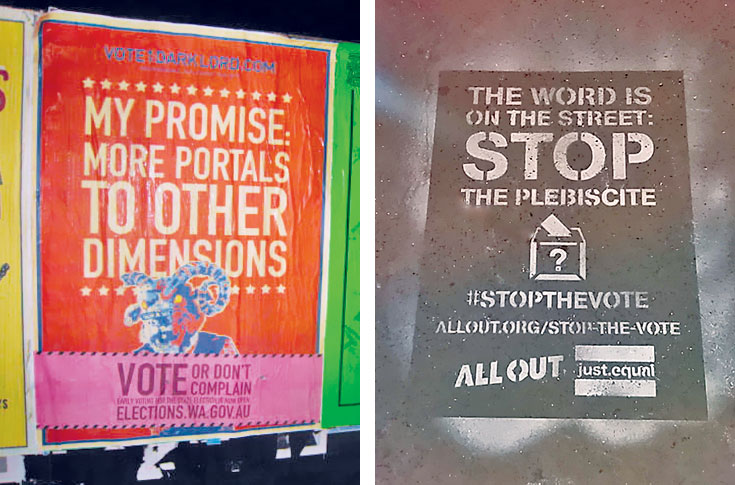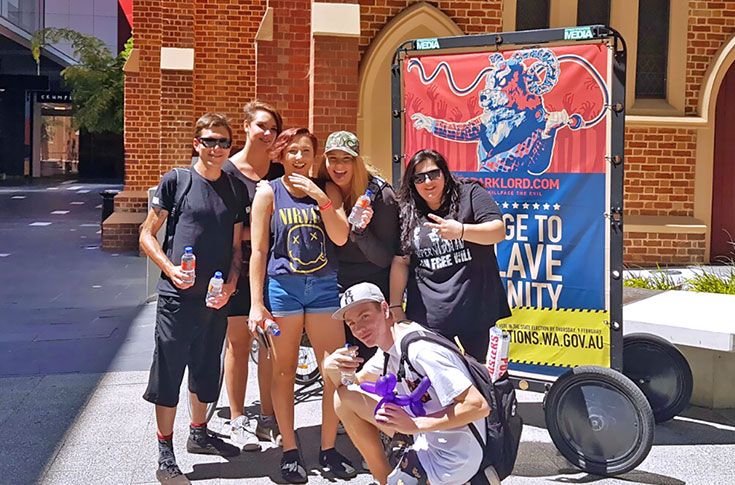 IMAGE: Your choice of service has to match your message and target audience.
For targeting the masses, the most suitable service is Glue Up Posters, which are around urban and city areas. These can be single, double, in a series or large-scale.
An alternative may be Human Billboards in busy areas. This has the added benefit of face-to-face engagement, where team members can hand out information and answer questions. Locations can be highly targeted, as can events.
For targeting a local area, Chalk Stencils are boundary pushing and designed to attract attention. In combination with a strong message, this can be a powerful tool. Water Pressure Stencils, Magnet Bombing and Pedestrian Buzzer Wraps are often used for when traditional media just isn't cutting it.
Advertising for an Election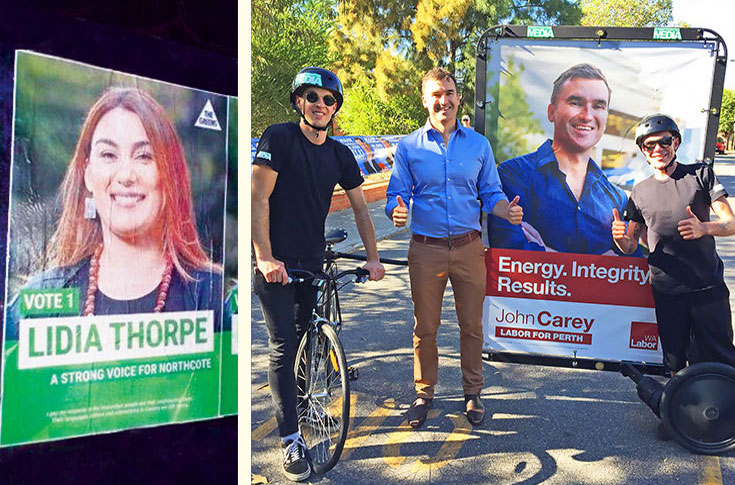 IMAGE: You can reach people before they reach the polling booths.
"We have activated campaigns for all major political parties and many independents on all levels of Government."
Leading up to an election and on election day, people are swarmed. How do you compete? Go large. Our Bike Billboards have a huge visual area. And, people can qualify your party, candidate or message before engaging. It's refreshingly transparent, really. Bike Billboards can circle a wider area surrounding polling booths, meaning you can reach people before they get to the gate.
Leading up to election day and on election day there are opportunities to reinforce who the relevant candidate is for the ward. Bike Billboards could be used additionally in the days leading up to an election.
But what about your political agendas? Consider Tanya Plibersek's campaign. Her party did a series of six Chalk Stencils bearing the party's core areas of focus. Her agendas were made clear to the lay-person over any other party's.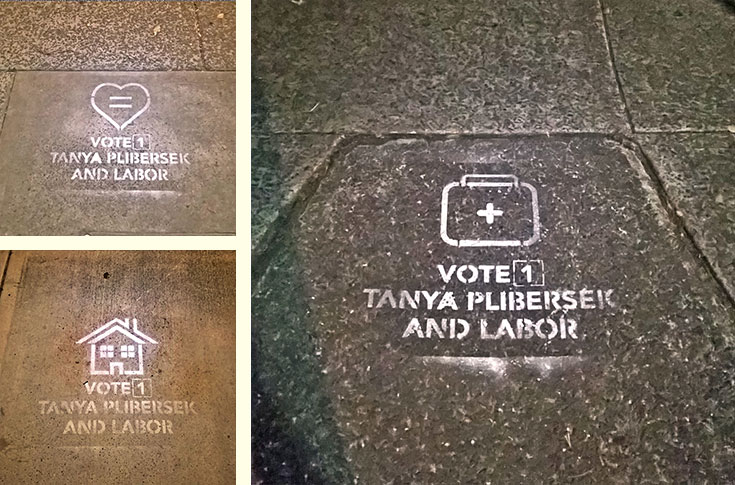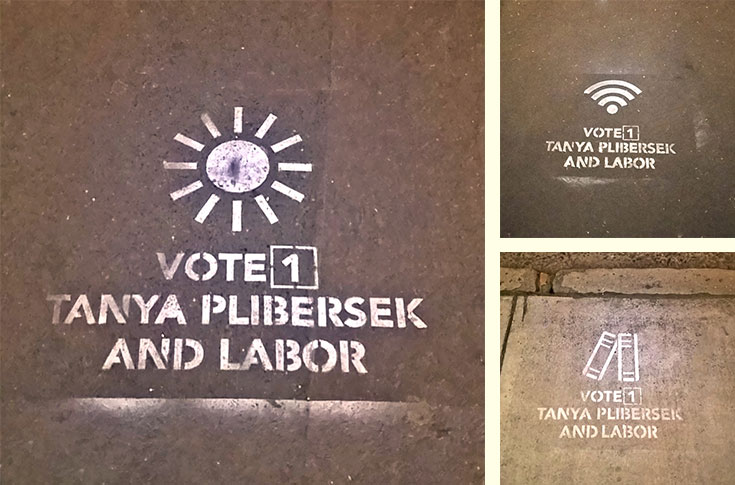 IMAGE: Tanya Plibersek used a series of Chalk Stencils to show the areas of focus for her party.
Social Cause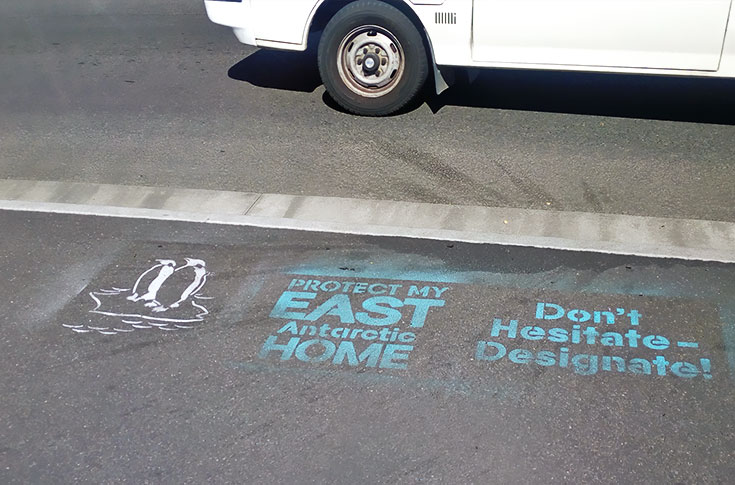 IMAGE:
Guzman Y Gomez used Brand Ambassadors and Posters for their #fixfastfood campaign. Brand Ambassadors held signs in a staged area and handed out information around the city.
The AYCC (Australian Youth Climate Change) and Antarctic and Southern Ocean Coalition used Chalk Stencils to reach the masses. Their messages were arresting with a perfectly-suited medium.
Religious Organisations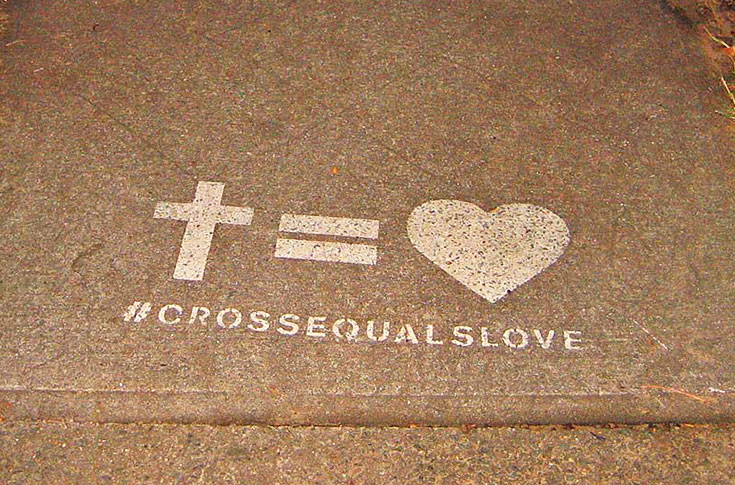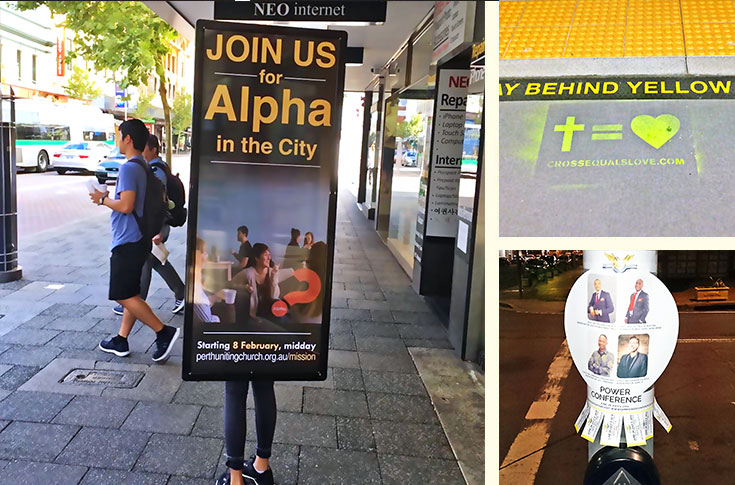 IMAGE: Consider whether you are targeting an urban, suburban or rural demographic.
Hillsong used Water Pressure Stencils for the lead up to Easter, a significant time to connect with people. Water Pressure Stencils can last up to a month and in some cases even longer. Activated in Waterloo and Beecroft, it was the perfect service to share their message in both a city and suburban area for an extended period of time. The following year they backed it up with Chalk Stencils, which meant more impressions in a short space of time.
The Uniting Church used the perfect medium, Human Billboards, to promote their Alpha course exploring Christianity. Connecting with Christians and non-Christians alike, people were able to qualify the message before receiving more information.
God Ministries used Tear-Off Posters to highlight their Power Conference. People can take the tab with them and look into it further when they have more time.
Key Considerations when promoting an agenda
Consider whether your target is pro, against or swing.
Consider whether you are targeting conservatives, the masses or liberal; and what types of services are appropriate.
Bike Billboards can connect with people first on election day
Tanya Plibersek's Chalk Stencil series highlighted the party agendas to the lay-person.
For a social cause, use a combination of face-to-face engagement, like Brand Ambassadors, and services that saturate an area.
Hillsong targeted city and suburban areas with long-lasting Water Pressure Stencils leading up to Easter.
Subscribe
Get Industry Insights and Campaign Examples straight to your inbox.
(1-2 emails per month)
We have ground team in
every state

and cover most rural areas.