Truck Billboards
Category: Large Scale
Overview
2 x Large-scale Billboards (6m x 3m each)
In-built stage
Can move to different suburbs/areas/cities
DataScope™ Live Audience Tracking
Suitable for sampling
Purpose built
Multiple artwork areas: passenger side, road side, vehicle skirts
Suitable for city, urban & regional areas
Stage allows for audience participation
Inbuilt stage allows for audience participation
Truck Billboards feature an in-built stage for announcements, demonstrations or audience participation. And, they change locations throughout a campaign. They are suitable for city, urban, suburban and regional campaigns.
!! Pre-Release Information !!
Truck Billboards are purpose-built for Streetfighter Media. Construction has started and is due for completion in September 2020.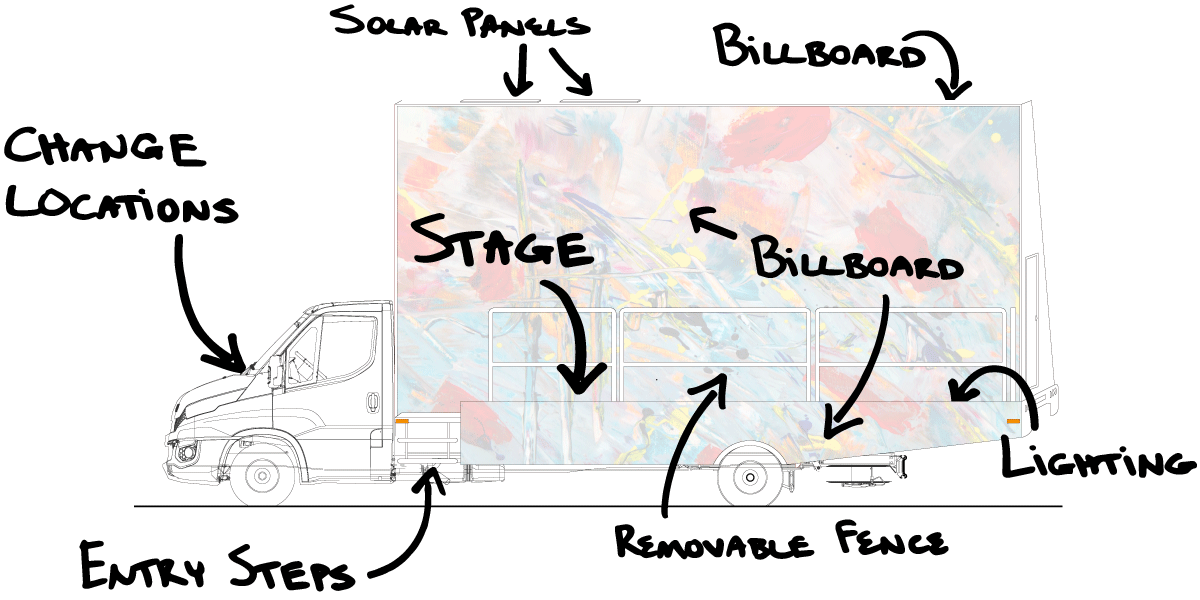 | | | |
| --- | --- | --- |
| | | Move Locations |
| | | Cover mutliple suburbs, areas, towns, cities and even travel interstate. |
| | | |
| --- | --- | --- |
| | | In-built Stage |
| | | The stage allows for announcements, presentations, displays or live demonstrations. |
| | | |
| --- | --- | --- |
| | | GPS & Audience Tracking Technology |
| | | Every campaign comes with GPS Tracking and Audience Tracking, letting you know the number of people exposed to your message and how long they were there. |
| | | |
| --- | --- | --- |
| | | City, Suburban, Regional |
| | | Being mobile, you are not confined to one specific site. Design a campaign that can cover several markets, including suburban and regional areas. |
| | | |
| --- | --- | --- |
| | | Sampling |
| | | We have team members and coordinators who are set up for distributing high numbers of samples in public locations. |
| | | |
| --- | --- | --- |
| | | Audience Participation |
| | | Use the inbuilt stage for selfies and audience participation. |
| | | |
| --- | --- | --- |
| | | Large Scale |
| | | Huge artwork areas. 6m x 3m billboard + vehicle Skirt on passenger side. Plus 6m x 3m billboard + skirt on road side. |
| | | |
| --- | --- | --- |
| | | Solar Powered |
| | | Using Mural lighting and billboard are 100% Solar Powered. |
| | | |
| --- | --- | --- |
| | | How are they used? |
| | | Perfect for connecting with locals, moving between suburban, urban and regional areas. The in-built stage can be used for announcements or audience participation. The Truck Billboard is always manned. Powered by solar, the billboards are illuminated at night. |
Diagrams
Truck Billboard with Skirt

Truck Billboard (no Skirt)
Removable Fence (Stage)