Health Initiatives & Education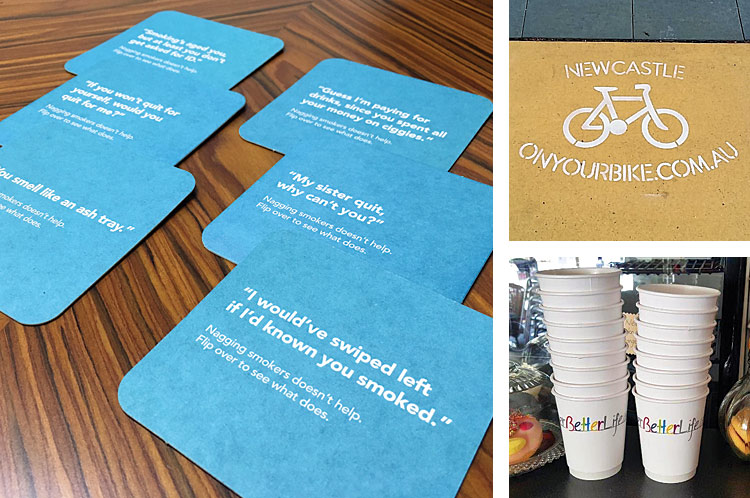 IMAGE: Long-engagement mediums and marketing en masse for public health initiatives.
Many health initiatives involve educating the demographic. Long-engagement services, like Coffee Cup Distribution and Beer Coaster Distribution are perfect for relaying a message that requires deeper consideration or self-reflection.
For public health messages, services like Glue Up Posters can reach the masses around urban areas.
Chalk Stencils, Water Pressure Stencils and Pedestrian Buzzer Wraps are excellent for gaining attention for a specific agenda in a localised area.
Gyms & Fitness Clubs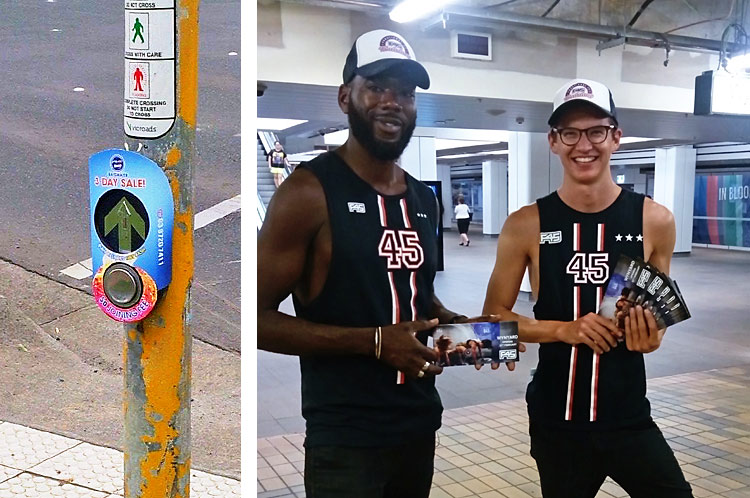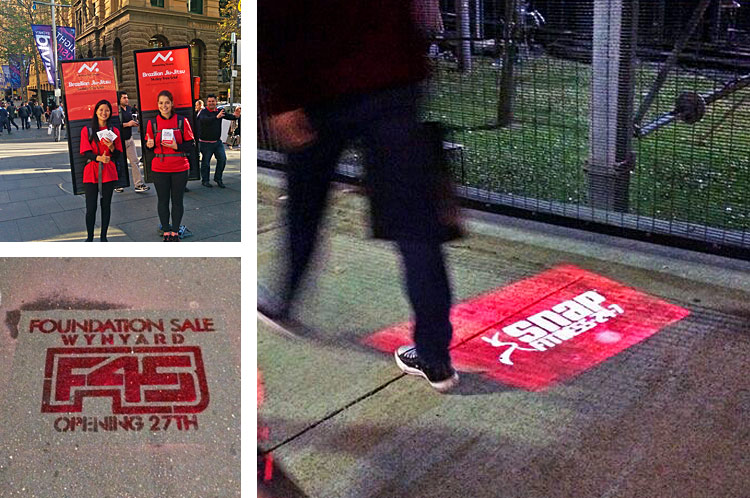 IMAGE: Local area saturation and face-to-face engagement are key.
Think you've left it too late? Think again. Many campaigns turnaround in 5 business days. But if you need it even faster, speak with us and we can try get a campaign on the ground in as little as a few days.
Here are three major questions to ask when advertising your fitness club:
Why is your club better than anyone else's? Is it newer equipment, no lock-in contract, longer hours or maybe personalised advice? What can you offer?
Who are you targeting? People who LIVE in the area, WORK in the area or BOTH?
What initiatives do you have coming up? Is it a membership sale, a free trial or maybe you have a fitness regime that is hugely successful.
I'm not going to lie... we've been doing this for a long time. And here's a killer combo:
Local saturation + Face-to-Face Engagement during peak times.
Services like Chalk Stencils, Pedestrian Buzzer Wraps, Magnet Bombing and Tear-Off Posters can cover a local area in an interesting way. This is a great way to entice.
Whereas services like Human Billboards, Brand Ambassadors and Sign Wavers can target people around transport hubs at peak times of day. Also, they can engage locals and hand out information.
A combination of saturation + face-to-face engagement is both interesting and highly targeted, making it cost-effective.
Nutrition & Wellbeing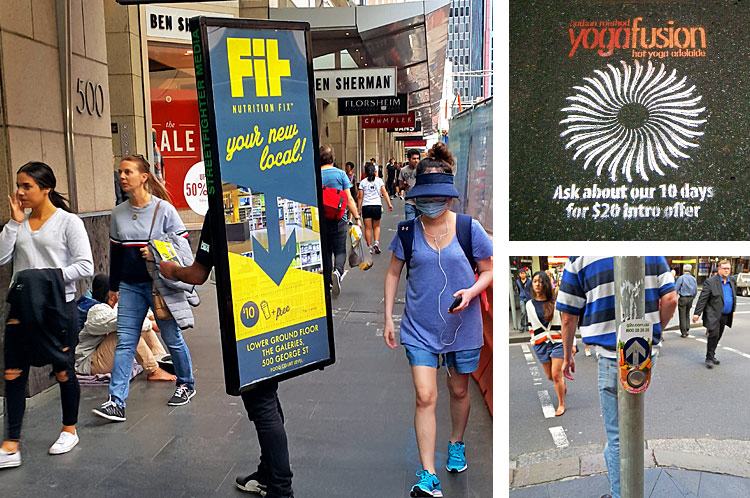 IMAGE: Often, this is about education and getting people through the door.
Often, nutrition and wellbeing advertising is two-fold. It is both educating the demographic and getting people interested in your offering.
Human Billboards mean that someone can qualify the message before engaging. It is important to have a message that can spark someone's interest in just one second, then use the person and flyer to go into more detail.
Pedestrian Buzzer Wraps are great for a message that needs a few seconds, as people are waiting at the lights.
Services like Sign Wavers are more suited to a new opening, limited offer or sale.
Key Points
For a fitness club, consider a strong combination of local area saturation + Face-to-face engagement during peak times.
Have more than one club? Speak with us about bundling your campaigns.
Long-engagement services like Coffee Cup Distribution and Beer Coaster Distribution are excellent for initiatives that involve self-reflection or consideration.
We work on short turnaround times. A campaign can be on the ground in a matter of days.
We can offer graphic design at competitive rates if you need it.
Subscribe
Get Industry Insights and Campaign Examples straight to your inbox.
(1-2 emails per month)
We have activated
thousands of campaigns

for gyms and health across the country.
Get in touch
Not sure where to start? Get in touch and we'll discuss your agenda and put forward customised campaign options.
EMAIL US