IMAGE: Deliveroo's intensive entrance into the Australian market in 2015.
The Brief
Being established in Europe and other parts of the world, Deliveroo wanted to launch in and dominate the Australian market with their food delivery app – something that was not commonplace here yet.
Deliveroo contacted Streetfighter Media in October 2015, before launch. They wanted a media partner to target locals in city and suburban areas.
The Campaigns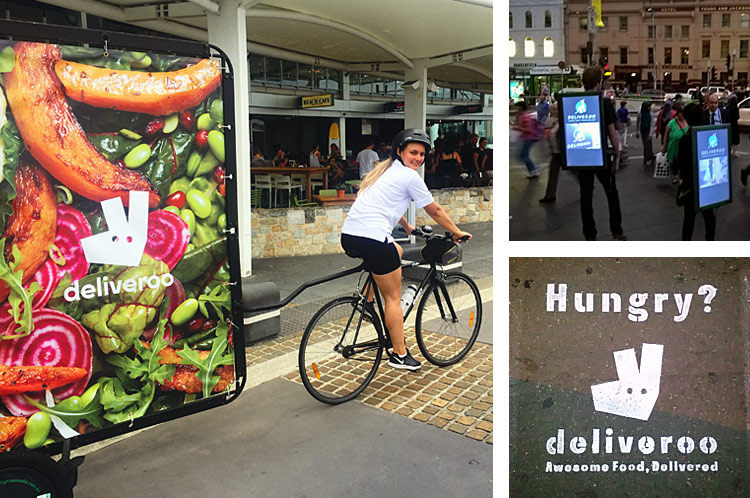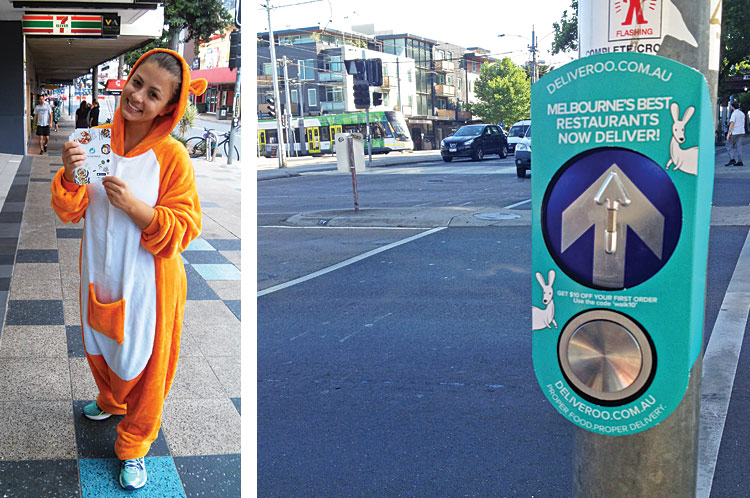 IMAGE: Deliveroo used a mix of services for their Australian launch in Sydney and Melbourne.
"Streetfighter have been pivotal in helping launch Deliveroo into the Australian marketplace."
At first, a one-month intensive campaign was executed simultaneously in Sydney and Melbourne for the Australian launch. Deliveroo used a mix of Brand Ambassadors wearing Kangaroo suits, Bike Billboards, Chalk Stencils, Video Billboards and Pedestrian Buzzer Wraps; having a daily presence in the streets.
This was followed by many smaller and more targeted campaigns, focussing on suburban restaurant hubs outside of the CBDs, for example, around Annandale, Fitzroy, North Sydney, just to name a few.
Later, events were targeted such as the Melbourne Comedy Festival and Australian Open.
Spreading across the country
Sydney and Melbourne Campaigns were replicated on the ground in Brisbane, Gold Coast and Perth. Each city having a daily presence as the app was launched in that region.
A Worldwide Rebrand

IMAGE: International old and new logo.
After eight months in The Australian market Deliveroo did an international rebrand, including a new logo.
Streetfighter Media were again engaged to activate daily, large-scale campaigns for the rebrand across Sydney, Melbourne, Brisbane, Gold Coast and Perth, simultaneously.
Long Story, Short
In total Streetfighter Media had daily activity in the market for Deliveroo for a period of 14 months straight across five cities, including city and suburban areas. A range of several services were used to saturate each local area.
What can we learn from Deliveroo?
Launch was rolled out in different areas over time. This meant that operations could be refined after each area launch. Marketing efforts could be analyzed and refined.
Deliveroo used different conversion codes for each campaign so they can track where conversions are coming from. Note each Bike Billboard has a different code "ROOPERTH" or "ROOSYD". Each flyer also had different codes to track effectiveness.
A one-second message. Artwork had a message you could process immediately. Coupled with the use of strong, large images, this campaign was used to draw people in and the nitty gritty was covered when they looked further. Don't forget, this concept was relatively new when they came into the market. They managed to educate a demographic as well as convert with a strong, simple message.
They used different forms of media. For initial launch, face-to-face, like Bike Billboards and Brand Ambassadors was key. For the rebrand, chalk stencils were the perfect medium for the then, better-known brand.
Saturate an area. Deliveroo worked hard in one area, dominated it then moved to the next. No room for second place.