Saturating the Surrounding Area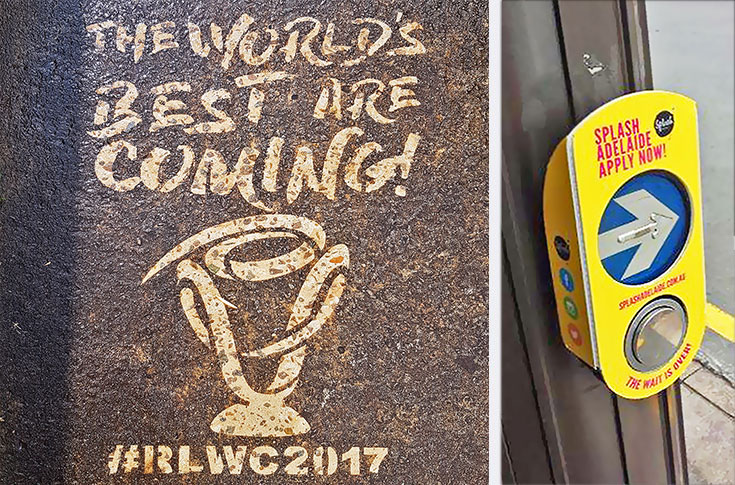 IMAGE: Chalk Stencils & Pedestrian Buzzer Wraps is a powerful combination.
Aqualand (above) used a series of different messages with Chalk Stencils to target the hoards of people at Sculpture by the Sea. The messages were staggered along the Bondi to Bronte pathways.
Chalk Stencils with Pedestrian Buzzer Wraps is a perfect combo for covering a whole suburb or route to public transport for a big game or concert. Chalk Stencils usually last for several days and can use a combination of colours.
We have found that people in crowds *actually wait* the full light cycle and Pedestrian Buzzer Wraps are an intriguing and quirky way to bide the time and can have a longer call to action.
Water Pressure Stencils may be more suited to trying to cover a sports season. They typically last up to a month and are still clear rain, hail or shine. Rugby League World Cup (above) surrounded stadiums and transport hubs to target people attending other games.
Encourage people to pocket your message with Tear-Off Posters and Magnet Bombing and revisit it at home.
Face-to-Face Engagement
IMAGE: People can distribute information and answer questions.
"Use face-to-face engagement on the way to an event rather than leaving it."
We have found it better to have face-to-face engagement on the way to an event (rather than leaving).
Lettermen is the loudest and a bit of a crowd-pleaser. Short messages or hashtags are perfect. Back them up with some Brand Ambassadors or Human Billboards who can distribute information and answer questions.
Bike Billboards have a huge artwork area and can travel between the event and transport hubs. Our Bike Billboards are larger than the industry standard. They are sleek, black and labelled as "One of the best advertising billboards in the world" by the International Exhibition of Inventions Geneva. Yep!
Targeting People Leaving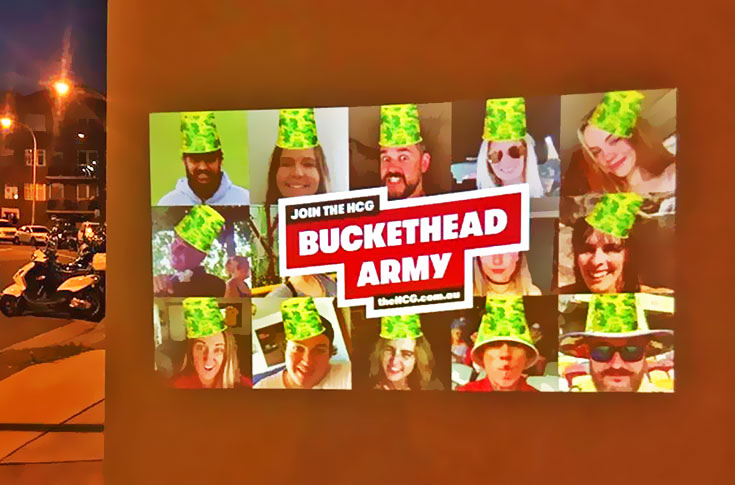 IMAGE: People don't want to hang around after an event.
I'll be honest, some people leaving major events are little looser than when they went in. This is the time for a public, targeted message.
At night, Mini Projections are most suitable. The projectors show a video, animation or stills against a wall or on the ground. And they still work in the rain.
During the day, Chalk Stencils or Pedestrian Buzzer Wraps would be the go-to.
Keep it short. Keep it direct.
What about Live Music Gigs?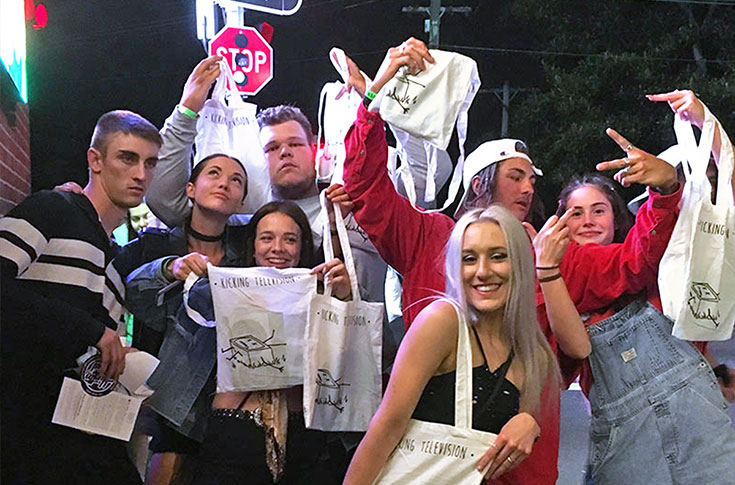 IMAGE: Different methods for different concert types.
Kicking Television was designed to connect with millennials, specifically after live music gigs. Capitalising on that post-show high, we give away cotton bags after live music gigs. This new concept hit the streets in November 2017 and gen-wifi LOVE them!
If you want to target concerts that aren't for millennials, Mini Projections would be a good one. But make the message succinct. People in their 30's+ don't often mosey around after a show.
Sony targeted people coming into a music festival with staggered Sign Wavers on the road leading in. The Sign Wavers were 100m apart, with a three-part message.
Targeting an Exhibition or Conference
IMAGE: You can target a different and highly specific group.
Many of our services can be in the right place at the right time. And a conference or exhibition has a very select group of people all in the one place at once.
Make sure your artwork is specific enough for people to realise they are the target. Be clever, make it clear you are wanting to connect with them.
Human Billboards are great for that face-to-face element because people can see the message on approach. Chalk Stencils are great for covering the surrounds. This may be around the venue, en route to public transport or near hotels where your target are likely to stay.
If you want to go unmissable, go Lettermen.
Heightened Security & Cleaning
There are limitations around some events. Speak with us about which event you want to target and we'll discuss best access and most suitable services.
What can we learn from these targeted events?
Saturate an area in an interesting way with a combination of Chalk Stencils, Pedestrian Buzzer Wraps and Magnet Bombing.
Water Pressure Stencils are suited to covering longer periods, like a sporting season.
Face-to-Face Engagement is better on the way to an event, not after.
After major events use Mini Projections or other services that saturate the local area
Target millennials with Kicking Television after live music gigs
Target an older crowd with Mini Projections after a concert
Speak with us about changes in access for major events
When targeting a conference, make sure your artwork is specific to the group and can be qualified on approach
Subscribe
Get Industry Insights and Campaign Examples straight to your inbox.
(1-2 emails per month)
Ask about our
Short Turnaround

times